Mitsubishi Motors
LANCER GSR Evolution V
The Mitsubishi LANCER GSR Evolution V high-performance sports sedan will go on sale at Mitsubishi Galant dealerships throughout Japan on January 26. This exciting model has been developed incorporating the latest engineering and technology feedback fostered through the company's active participation in the World Rally Championship (WCR) and other motor sport events.
---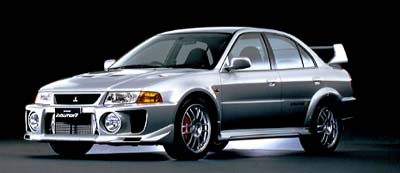 LANCER GSR Evolution V
Mitsubishi Motors launched the original LANCER GSR Evolution sports sedan model in 1992 with the purpose of participating in the World Rally Championship. Product features included a 2.0-liter DOHC intercooler-turbocharged engine with large intercooler, air-cooled oil cooler, aluminum engine hood with large air outlets, and large rear deck spoiler.
The series has undergone an ongoing evolution process since its introduction. Improvements in engine performance and handling led to the Evolution II in 1993 and the Evolution III in 1995. Following the introduction of the new LANCER series which underwent a full model change and incorporated major improvements in styling and vehicular performance, the LANCER GSR Evolution IV was launched in 1996, boasting higher engine performance and Mitsubishi's AYC (Active Yaw Control) adaptive handling enhancement system.
The new Evolution V continues the evolution process, with a further increase in engine torque and substantially improved handling thanks to a wider track and upgraded Brembo braking.
An active participant over the years, Mitsubishi Motors has chalked up an impressive track record in rallying all over the world. In the 1997 WRC, the world's premier rally competition, the Mitsubishi LANCER GSR Evolution IV displayed its awesome potency, taking overall honors in Round 4, The Tap Rally Portugal; Round 5, The Catalunya Rally; Round 7, The Rally Chevron Argentina; and Round 10, The Neste Rally Finland. In addition, Mitsubishi's ace pilot Tommi Makinen of Finland drove his Evolution IV to the Driver's World Championship for the second successive year, and Mitsubishi LANCERs took manufacturer championship honors in Group N, in which only safety-related modifications to the base model are permitted.
Major Product Features
1.Vehicular performance
(1)2.0-liter DOHC intercooler-turbocharged engine
The new Evolution V generates maximum output of 280 PS and torque of 38.0 kg-m (2.0 kg-m more than Evolution IV) using an upgraded intercooler, enlarged nozzle area in the twin-scroll turbocharger, lighter pistons, and upgraded radiator and oil-cooler.
(2)Close-ratio transmission
The new Evolution V uses a close-ratio gearbox which, together with a stiffer linkage and shorter shift lever, realizes more direct and positive operation and better shift feel.
(3)Suspension and handling
Longer lower arms in the front and changes to the arm attachment points in the rear suspension widen the track 40mm at the front and 35mm at the rear over Evolution IV. This, together with stiffer toe and camber resulting from the use of inverted struts at the front, results in improved cornering stability.
(4)Tires
Evolution V uses 225 / 45ZR17 tires, improving grip and realizing a substantial increase in cornering limits.
(5)Brakes
To match the improved dynamic performance, Evolution V uses Brembo 17-inch 4-pot caliper brakes at the front and 16-inch 2-pot caliper brakes at the rear. (16-inch 2-pot caliper at front and 15-inch single-pot caliper at rear on Evolution IV). The result is less fade and more stable braking at high brake temperatures.
(6)Adaptive yaw control
Evolution V achieves optimal torque distribution to all four wheels by combining a helical limited slip differential in the front transaxle with Mitsubishi's own AYC (Active Yaw Control) system that generates a stabilizing yaw moment by creating a torque differential in the right and left wheels. The result is improved cornering performance and stability on all surfaces.
2.Exterior
(1)Styling
Contributing to Evolution V's outstanding aerodynamics is a full range of redesigned aeroparts, including the impressive aluminum engine hood, wide fenders, front and rear bumpers, as well as front, side and rear airdams.
(2)Aero-tuning
Evolution V sports a delta-shaped wicker and adjustable rear deck spoiler that provides four different angle of attack settings for the wing to optimally match all driving speeds.
(3)Wheels
Evolution V uses a new design of OZ 17-inch alloy road wheels.
(4)Colors
Evolution V is offered in a choice of five body colors: Scotia White, Satellite Blue, Pyrenean Black, Palmar Red and Dandelion Yellow (factory option).
3.Interior
(1)Seats
A new design of Recaro bucket seat provides improved hold and occupant location.
(2)Steering wheel
Evolution V uses a MOMO leather steering wheel and leather shift knob.
(3)Color coordination
The interior uses black throughout to accent the models sporty design and nature.
4.Safety
SRS airbags for driver and front passenger, and anti-lock braking are standard on all models.
5.RS Evolution V competition version
Available by order is the RS Evolution V competition version for entry in motor sport events. This model features a lightweight body.
LANCER GSR Evolution V: Principal Specifications
Drive mode

Full-time 4WD

Model code

Mitsubishi GF-CP9A

Designation

SNGF

SNDF

Engine

2000 16-valve DOHC Intercooler Turbo

Variation

GSR Evolution V

RS Evolution V

Transmission

5-speed manual gearbox

Dimensions & weights
Overall length (mm)

4350

4350

Overall width (mm)

1770

Overall height (mm)

1415

Wheelbase (mm)

2510

Track (mm):
Front

1510

1495

Rear

1505

1490

Min ground clearance (mm)

150

Interior length (mm)

1805

Interior width (mm)

1430

Interior height (mm)

1175

11175

Vehicle weight (kg)

1360

1260

Passengers

5

Performance
Minimum turning radius (m)

5.5

Fuel consumption (km/l):
10-15 mode

9.7

10.2

60km/h

17.4

Engines
Type

4G63 Turbo

No. of cylinders / valvetrain

In-line 4 / 16 valve DOHC

Bore x stroke (mm)

85.0 x 88.0

Displacement (cc)

1997

Compression ratio

8.8:1

Max. output (PS/rpm)

208 / 6500

Max. torque (kg-m/rpm)

38.0 / 3000

Fuel delivery

ECI-MULTI electronic fuel injection

Type of fuel

Unleaded premium gasoline

Fuel tank capacity (liters)

50

Transmission
Type

5-speed manual

Ratios
1st

2.785

2nd

1.950

3rd

1.407

4th

1.031

5th

0.761

Reverse

3.416

Final reduction gear

4.529

Running gear
Steering

Rack & pinion (power assisted)

Suspension
Front

MacPherson strut

Rear

Multi-link

Brakes
Front

17-inch ventilated disc

15-inch ventilated disc

Rear

16-inch ventilated disc

15-inch ventilated disc

Tires

225 / 45ZR17

205 / 60R15 91H
Back To My Homepage.